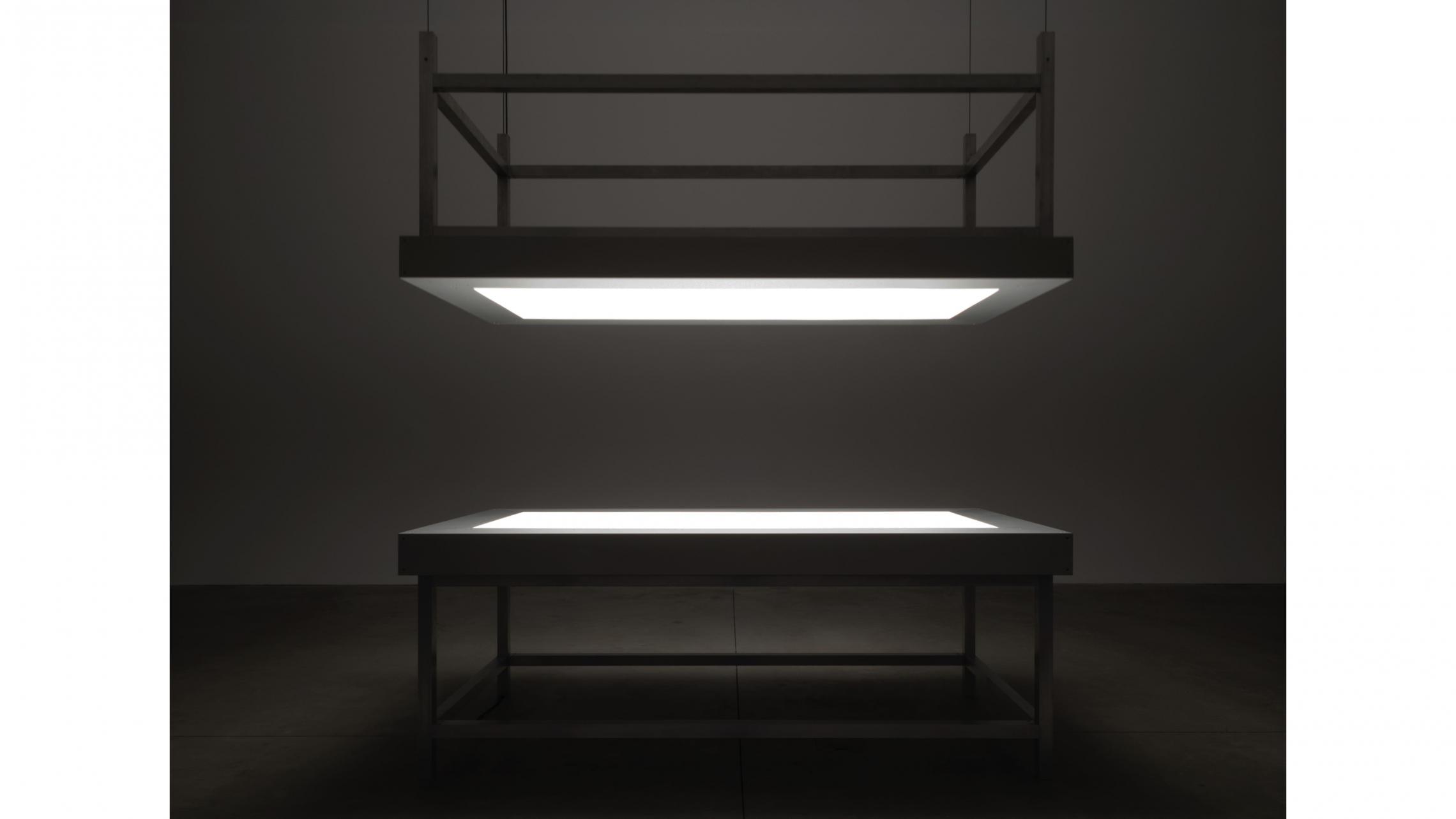 Alfredo Jaar
"Lament of the Images"
Fri. 4 October - Sat. 2 November,2019
Opening Hours: 12:00 - 18:00
*Closed on Sun. Mon. Holidays
Artist, architect, and filmmaker, Alfredo Jaar (b. 1956, Santiago de Chile) has a multidisciplinary practice and expresses cultural and political crisis in the austerity of a minimalist vocabulary. His consistent, dedicated research on human rights violations and social injustice seeks to dismantles information forged by contemporary media, and shed light on margins of reality through humanitarian insight. For this exhibition, his uncompromising strategy is realised as a critical reflection of global media culture.
Central to the exhibition, Lament of Images is the artist's 2002 installation of the eponymous title, conceived as a renewed interpretation. The work consists of two aluminium-framed light tables—an illuminated device for viewing photographic film, in which one is suspended from the ceiling upside down, precisely mirroring the other. As the hanging table lowers to meet the base, a thin silver line dissects the exhibition space. The two light surfaces eventually collide to black out the surrounding space—a metaphorical gesture for the blinding effect of a contemporary society that is ever more exposed to visual information.
Jaar's lament about loss and absence of images echoes in the text-based work, You Do Not Take a Photograph, You Make It (2013). Suggesting today's culture of digital photography and software manipulation, the work "urges us to consider our own responsibility as image makers and consumers." Referencing a statement by American photographer Ansel Adams (1902-1984), a piled stack of printed posters invites the viewer to take a piece and to carry the idea beyond the gallery space—an act of which contributes to the slow disappearance of the sculptural image. Another poetic statement, Be Afraid of the Enormity of the Possible (2015), excerpt of a poem by E. M. Cioran's (1911-1995) further elucidate Jaar's position as a passionate pessimist.
Probing the oversaturation of digital images through social media, in parallel with an increased level of control over broadcast media today, Lament of the Images consists of light and text and manifests the crisis of images in society. The exhibition is concerned over the rise of fake news and the increasing difficulty in the contemporary visual culture to disentangle facts from fiction, and truth from lies.