The inaugural exhibition at SCAI PARK will showcase works by Daniel Buren, Jenny Holzer, Darren Almond, Lee Ufan and On Kawara, combining latest works by represented artists made specially for the inaugural launch and historical masterpieces from the gallery collection not shown to date.
New works in the exhibition include British artist Darren Almond (b. 1971) whose retrospective exhibition at Art Tower Mito is still fresh in our memory; as well as Lee Ufan (b. 1936), 2014 guest artist for his solo presentation at Château de Versailles in France. Almond is presenting a new work from his star painting series made of Aquacryl on aluminium panels, with images derived in reference to the data recorded by the Hubble Space Telescope. Lee's new acrylic painting, Dialogue (2016) explores the artist's use of multiple colour elements in a single stroke.
Jenny Holzer (b. 1950), widely known for her linguistic LED work, is exhibiting selection from Truisms: Being happy is… (1977-79, 2015), which is a thick marble bench with an engraved maxim — a communicative form signature to her practice. Also on display will be a Today series by another conceptual artist On Kawara (1932 - 2014), and a set of five paintings by Daniel Buren (b. 1938), best known for his distinctive site-specific interventions of alternating stripe patterns. Originally produced for his exhibition at Nagoya ICA in 1989, 5 Elements' Tissu blanc et jauneLes deux bandes extremes blanches recouvertes de peinture acrylique blanche, is brought into public view for the first time in 28 years.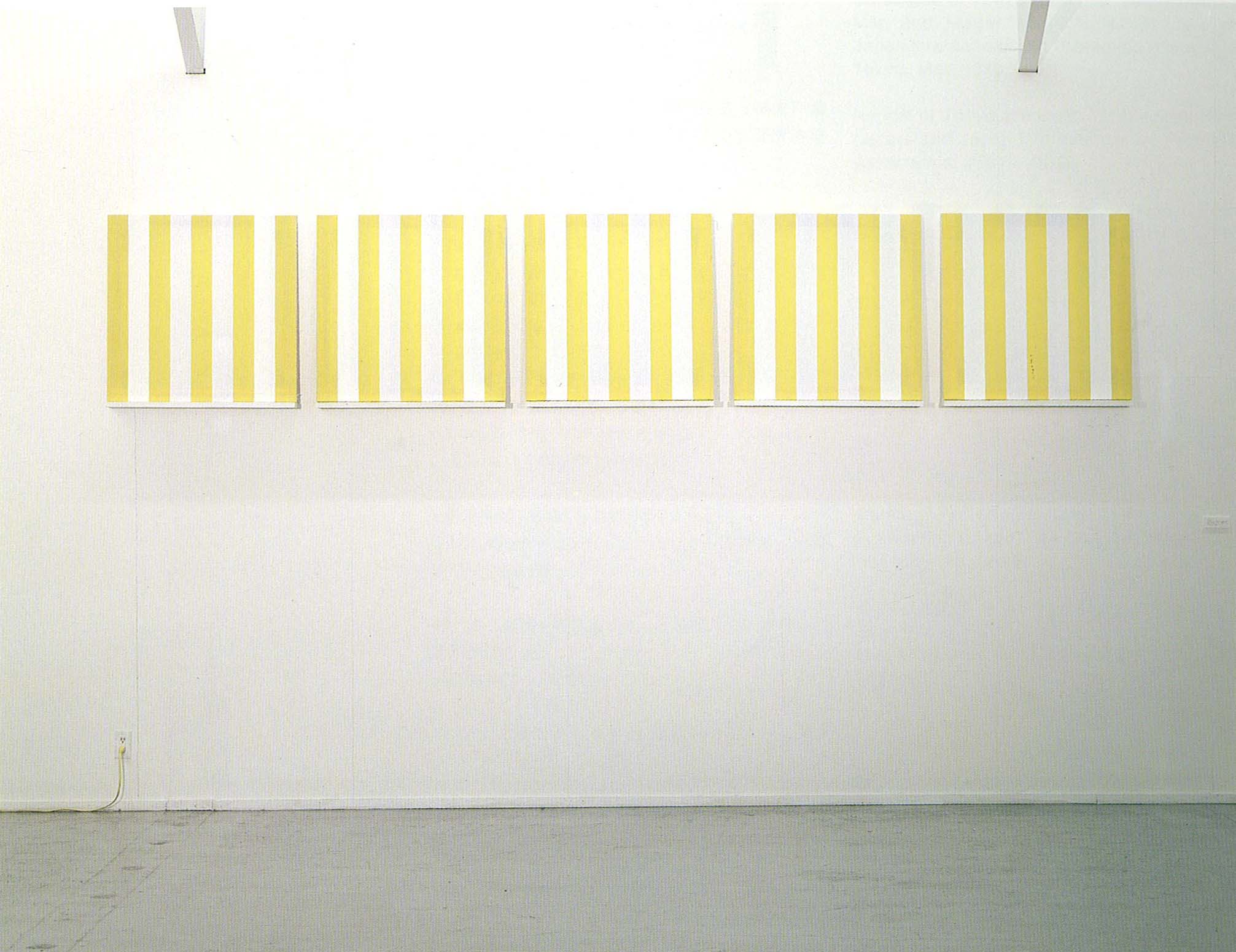 Daniel Buren
'5 Elements' Tissu blanc et jaune
Les deux bandes extremes blanches recouvertes de peinture acrylique blanche
1989, White and yellow cloths and acrylic on canvas
300 × 1350 cm (installation size) 78 × 78 cm × 5 pieces