ART FAIR TOKYO 2012
SCAI THE BATHHOUSE is pleased to announce our participation in ART FAIR TOKYO 2012 which will be held in Tokyo International Forum from Friday 30 March to Sunday 1 April (3days).
This year, SCAI's booth will exhibit two artists, Noriko Ambe and Kohei Nawa, including their new works.
Noriko Ambe makes sculpture with thousands of sheets of multilayered papers, which have been individually cut with a craft knife. This time, in addition to the sculpture made with multilayered Yupo, a type of synthetic paper, Noriko will show "Book cuttings" and "Flat file globes", the cabinet filled with cut papers.
Kohei Nawa will show his new paintings Direction, which were painted by using only the natural force of gravity. These will be installed on the walls of the booth.
Please enjoy our exhibition space that blends Noriko's 'edge lines' made of cut and layered papers, and Kohei's works which describe a phenomenon using lines.
We would like to welcome you and look forward to seeing you at the venue.
ART FAIR TOKYO 2012
Date:
Friday 30 March 11am - 9pm
Saturday 31 March 11am - 8pm
Sunday 1 April 10:30am - 5pm
Venue: Tokyo International Forum, B2F Exhibition Hall
3- 5-1 Marunouchi Chiyoda-ku, Tokyo 110-0005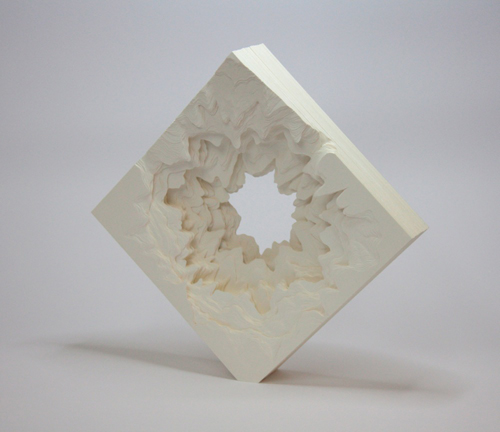 Noriko Ambe "A Piece of Flat Globe Vol.25" 2011 29 x 6 x 30 cm Cut on Yupo, glue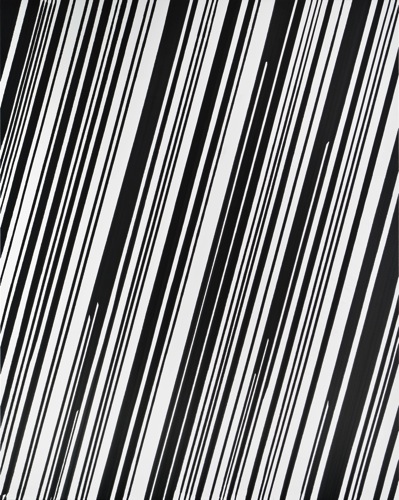 Kohei Nawa "Direction #5" 2011 227.3 x 181.8 x 3 cm paint on canvas