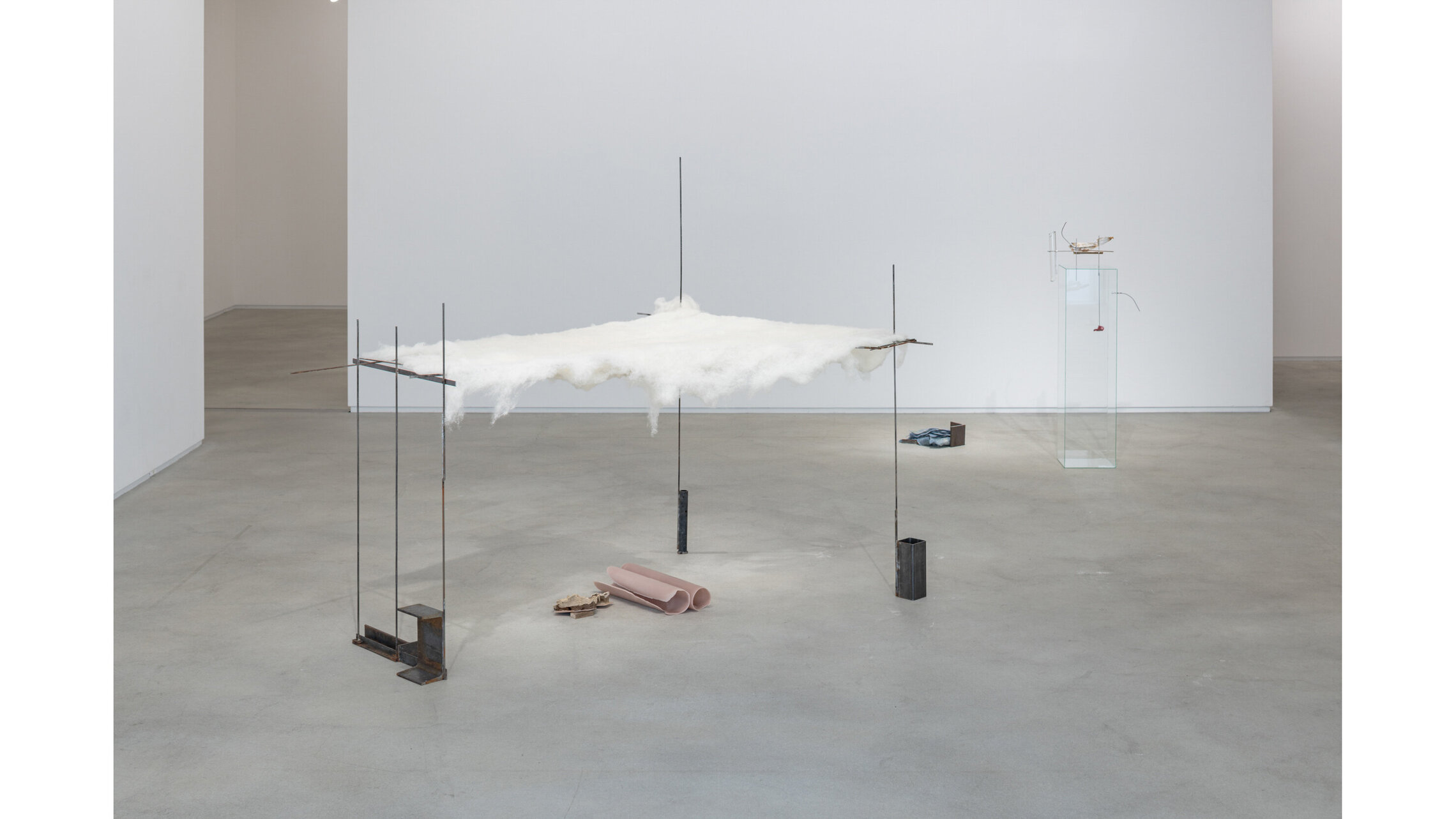 Nobuko Tsuchiya
"Stay as a wave"
Thu. 13 April - Sat. 8 July, 2023
※ no reservation required
Opening Hours: 12:00 - 18:00
*Closed on Sun., Mon., Tues., Wed. and Public Holidays
*Closed on Sat. 29 April, Thu. 4, Fri. 5, Sat. 6 May, Thu. 1 June, 2023 for the golden week holidays and facility inspection
Suspended wires, fluffy wool, enigmatic shapes formed by transparent resin, delicate glass that seems ready to break - Nobuko Tsuchiya's works, which freely combine everyday objects and scrap materials, speak to the viewer's senses as a unique visual language arranged in the exhibition space.
The exhibition 'Stay as a wave' by the artist, who has been active internationally, consists of a series of all-new installations in the first and second rooms. Tsuchiya's imagination, which has been demonstrated in the past with subjects such as "universe" or "moon", seems to have been further developed today, through subatomic particles to sound waves, echoing in the exhibition space.
Everything in the universe, including all life and non-life, is made of subatomic particles that share the same roots - is the latest physics theories as well as Tsuchiya's perspective. Additionally, her deepened thoughts on life have had a considerable influence on her recent works. In the first room, installations of various sizes are arranged in the exhibition space, suggesting the element of "sound," which is one of the key words of this exhibition. These works, scattered throughout the exhibition space as structures free from conventional interpretations, appear as a piece of poem composed of cryptic signs. Tsuchiya says that she creates her works in such a way as to sublimate the imagination that wells up from her body. Tsuchiya's perspective, becoming as a series of narrative sequences through each viewer's perceptual experience which stimulates five senses including sight or touch, seems to overwhelm one's imagination.
In the second room, newly made three-dimensional works, made through an exchange between the artist and the materials are on display. Lined up on pedestals of the same height, the installations of various structures, with their humorous shapes, will also draw one's attention. Freely combined with everyday objects and scrap materials such as wire, felt and resin, these structures, in which the artist's intention is rarely obvious, are more appropriate to be described as being generated or rising up, rather than being created by the artist's hand. Standing out for the freshness of their combination of materials far removed from their original use and form, these assemblages are Tsuchiya's quintessential works.
The phrase "Stay as a wave" came to her mind during the process of making the exhibition, Tsuchiya said. This phrase, open to various interpretations in English, seems to express the nature of her works, and can also be taken as a message to the viewer. Tsuchiya has further sharpened her thought and presented the exhibition space itself as a device through the composition of her new works. The visitors are encouraged to experience the works and dive into the culmination of Nobuko Tsuchiya's thought and practice, which is expected to evolve further.