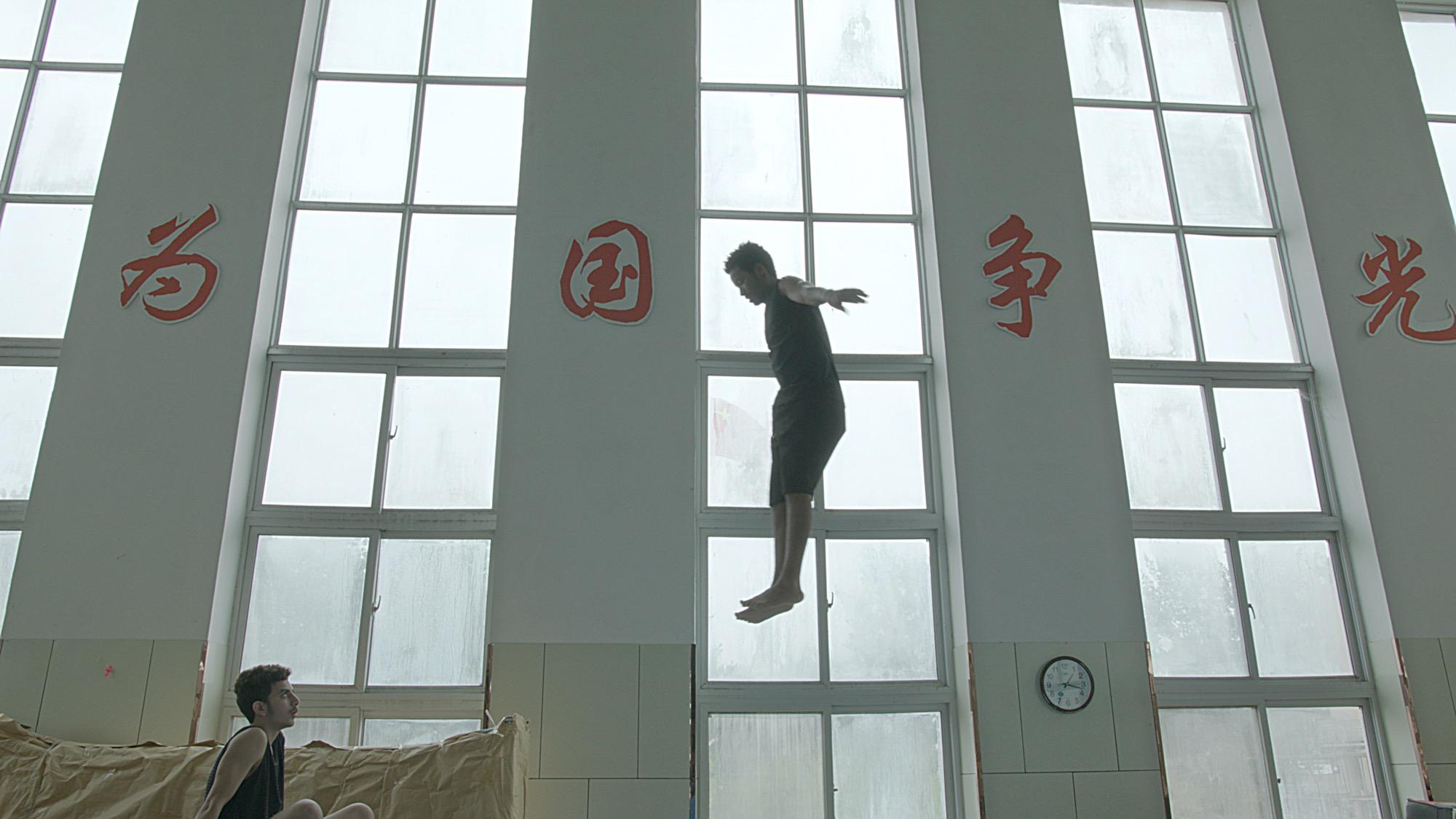 SCAI PIRAMIDE SCREENING PROJECT vol. 1
MOON Kyungwon & JEON Joonho
He Xiangyu
Vajiko Chachkhiani
Thu. 3 February - Sat. 2 April, 2022
The screening schedule is as follows.
Thurs, 3 February - Sat. 19 February, 2022 : Vajiko Chachkhiani
Fri, 24 February - Sat. 12 March, 2022 : MOON Kyungwon & JEON Joonho, 18 March - Sat. 2 April, 2022 : He Xiangyu,
※Reservation required
Opening Hours: 12:00 - 18:00
*Closed on Sun., Mon., Tues., Wed. and Public Holidays
A Molded Moon, Life within a Vase (2016) by Moon & Jeon, using Korean traditional white porcelain called "Moon Jar" as a motif, features the futility of the man's pursuit of perfection in life. A visually impaired woman is talking to herself on stage. Alternately appearing hairy man seems to converse with her. Referring to Faust by Goethe, their words describe a famous scene that the titular character, seeking for a further satisfaction of life, sells his soul to the demon Mephistopheles. A hairy man evokes a figure of the demon who appeared as a shaggy dog in the eyes of the doctor Faust.
Treating as a symbolic motif "Moon Jar", characterized by its imperfection after firing, the film sublimates such a philosophical thesis repeatedly covered since the age of Faust, within an aesthetical realm as a result of their practical pursuit.
He Xiangyu filmed Wuquiao Acrobatics School situated in Hebei Province in China for 3 years. It is especially young African students coming from Ethiopia or Sera Leone, who are focused in his film Terminal 3 (2016-2019). Each student's monologue telling their dream or hope overlaps with the images of them practicing in absolute loneliness. Serene and meditative, their praying routine to enshrine their Allah and God, alternately inserted between the acrobatic training scenes, adds a peculiar atmosphere to the work. Born in China in the middle of rapid urbanization and social changes, He, sensible to the mutability of things, deepened his investigation these years on marginalized phenomenon, such as matters or communities. In Wuquiao, where traditionally people train their bodies to earn money, the acrobatic became a cultural industry merged with global tourism. These young African students, far from their root and under the incessant pressure of re-modeling themselves, seems to be described, through the artist's observant perspective, as an analogy of globalized capitalism becoming increasingly fierce.
Two films by Vajiko Chachkhiani portray psychological conflicts arisen in one's inner space. Two women, one in a house, the other in a circus theater, look buried in their thoughts. As Chachkhiani's films often have significant materials playing primordial roles, such characteristic is especially eloquent here in the title of the two films, Heavy Metal Honey (2018) and Cotton Candy (2018), each of which refers to sweet, sugary things. With the word "Honey", the title including "Heavy Metal", which is a constitution of the soil, alludes to a circulation of nature running through the flowers rooted in the earth to the bees cultivating sweet honey from flower nectar made of the subtly toxic soil. A rose appeared at the beginning of the film seems to express this cycle of nature. The woman in Cotton Candy accompanied by her granddaughter, tells that both of them share the story of the "house" or the "family" in their background and seemingly experienced an inner struggle no one can see from the outside.
Although each of the three works has his own theme and characteristic, the depicted situation urging oneself to reflect inward – parallel to our current status - is in common. The young African trainees, under the constant pressure of building their bodies and sprits, the introspective women in the film of Chachkhiani and the Faust soliloquizing in the darkness, could be a projection of each one of us forced to change in a way, as a result of a long, intermissive, self-enclosed tendency.
The exhibition, consisting of a few pieces together with filmic works, encourages viewers to have a time for contemplation, through each of the three artist's highly suggestive perspectives.