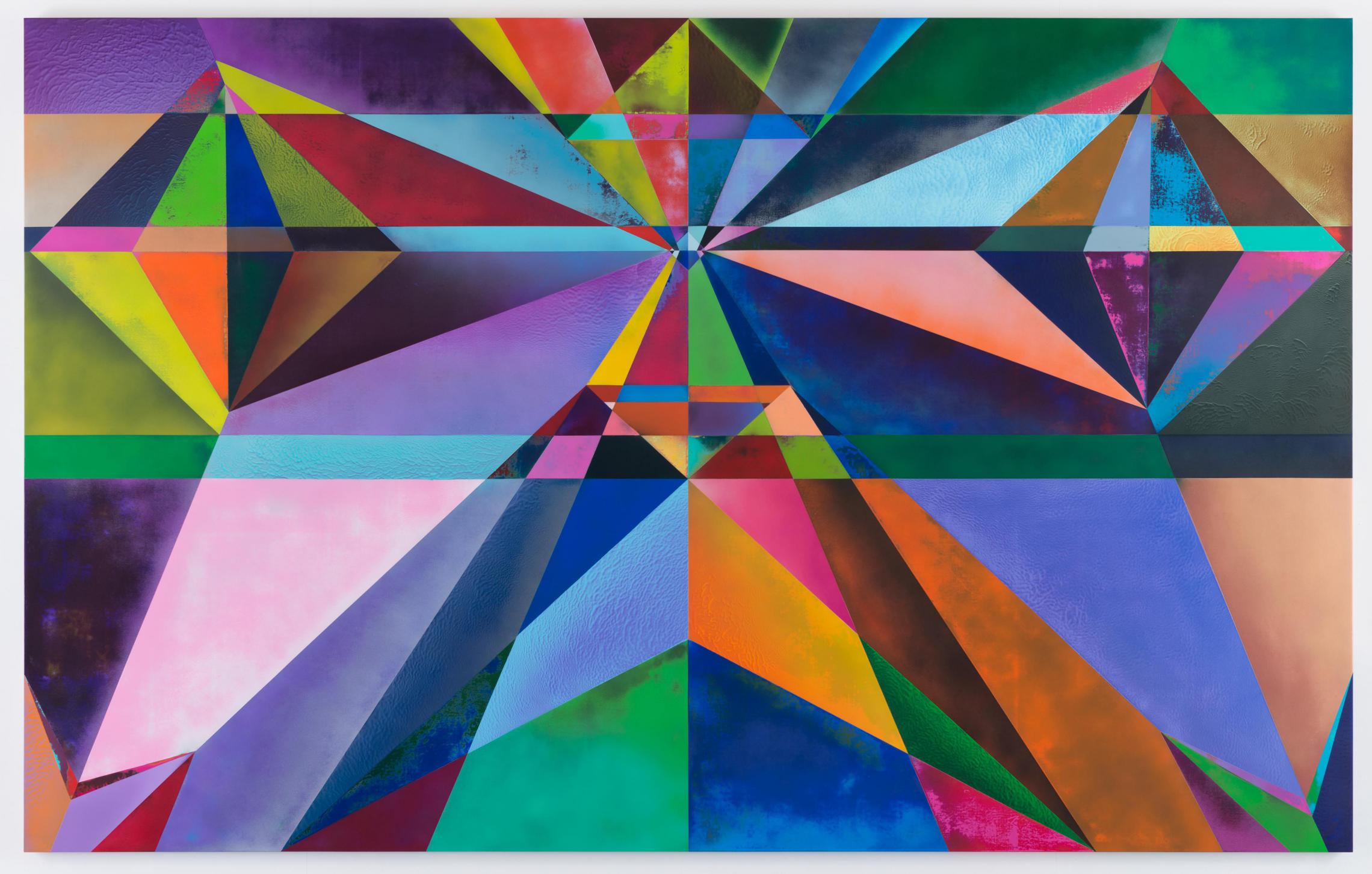 Yusuke Komuta 'Color Unfolds'
2013.11.20(Wed) - 12.25(Wed)
Exhibition Period:
Wednesday, 20 November - Wednesday, 25 December, 2013
Opening Hours:
12:00-18:00 *closed on Mon., Sun., and Holidays
Venue:
SCAI THE BATHHOUSE
Yusuke Komuta (b.1983) folds and unfolds paper airplanes and stretches them across canvas, sourcing his pictorial composition from origami paper craft. The paintings reveal unexpected designs drawn from geometric patterns and emphasize each facet as a sensational prism of color. From a figurative handcraft to a flat sheet of paper, the work of Komuta reverses the process of folding and invites the viewer into a kaleidoscopic world of abstraction vivified with rhythmic patterns and pure colors.

Komuta's tableau is composed of hardedge facets, which bring together the architecture of reflective light movements. Symmetrically paired segments of linear pattern structure the confounding disposition of triangular complexities. Intrigued by 'brilliants,' gemstones cut with numerous facets to attain maximum vibrancy; the artist assimilates these repetitious and hypnotic jewelry patterns with a pictorial surface. The resulting compositions draw an illustrative map for the interplay of light and shape.

Komuta's distinctive palette further compliments the intricacy of his painterly compositions. Contrasting colors are layered, skillfully sanded or air-brushed to create a surface of myriad nuances to immerse the viewer. Multiple points of convergence emanate bright beams of color referencing modernist perspective and color theories. Much of his artistic inspiration is derived from a particular lineage of American abstraction, traces of which are historically drawn to Robert Delaunay (1885-1941) and the idea of Simultanism in the 1910s.

Explaining the exhibition title, Komuta points to the elusive and phenomenal quality of color. Unfolded origami is free from a figurative referent, with only vestiges of past construction remaining. This slightly suggestive and highly obscure field provides a perfect medium for Komuta's large-scale paintings, which envelops the viewer in a captivating experience of color as a healing language.

The art of abstraction has long provided respective position in which to consider an emotive and spiritual space beyond representational configuration. Inspired by familiar handcraft of origami and turning it into an absent referent, Komuta materializes a field of harmony and geometrical equilibrium as a delightful contribution to the revival of abstraction.