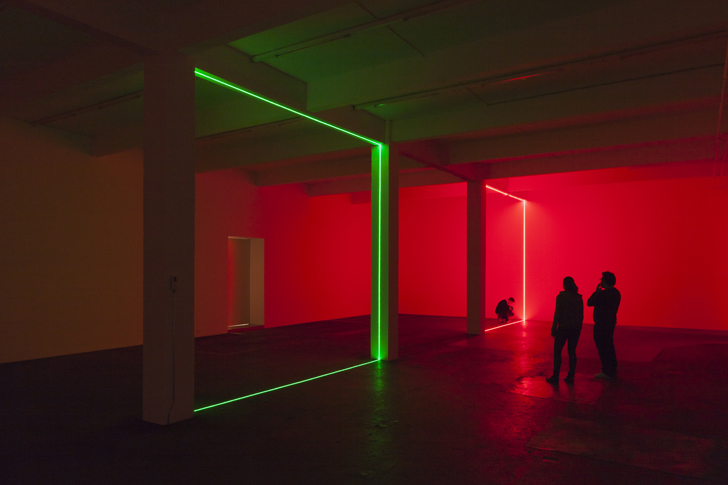 Haroon MIRZA
Daiwa Foundation Art Prize Winner
2013.1.18(Fri) - 2013.2.23(Sat)
Exhibition Period:18 January – 23 February, 2013
Opening Hours:12:00-18:00 *closed on Mon., Sun., and Holidays
Venue:SCAI THE BATHHOUSE
Organised by The Daiwa Anglo-Japanese Foundation, SCAI THE BATHHOUSE
Supported by Japan Airlines Co. Ltd., British Embassy Tokyo, Daiwa Securities Group Inc.
Haroon Mirza was born in the UK in 1977, and received the UK's Northern Art Prize in 2010. In 2011, he was the recipient of the Silver Lion for promising young artist at the 54th Venice Biennale, and in 2012 he held a solo exhibition at the New Museum of Contemporary Art in New York. He has participated in exhibitions such as Performa (2011, New York) and the Gwangju Biennale (2012, Korea), eliciting powerful international acclaim, and is one of the most exciting young artists in the British art scene in the current decade.
Calling himself a composer, rather than a sound artist, Mirza's works are compositions that characteristically interweave sound, objects, and space. They incorporate furniture, household electronics, antique household goods, utilize past works by other artists such as Jeremy Deller and Guy Sherwin, and sometimes mix LED light and video with lo-fi electronic sounds to create complex assemblages or installations that have real depth.
These works all originate from the artist's interest in acoustic space. As noted by Marshall McLuhan, in post-industrial society, in addition to the static visual space of print, we occupy a dynamic auditory space, in which sound assails us from the TV, radio, and other electronic media. Consider how the addition of the act of hearing affects the way that we relate to a work. By creating a space that maintains a certain sense of tension, but by not embedding too much meaning or giving away too much, Mirza leaves the reaction to the viewer.
By focusing on "sound," rather than on the "music" of melodies and songs, the artist's approach can also be seen as incorporating criticism of religious dogma related to the Islamic culture that infused his Muslim upbringing, based on his family roots in Pakistan. Parts of Islamic culture regard music as taboo, and given that context, it is easy to envisage that exploring and maintaining the boundaries between music, sound, and noise must have been debated again and again over the years, representing a key issue directly related to life.
This exhibition consists of new works that the artist will create here in Japan. Mirza describes art as being "about posing questions rather than giving answers," and his works are establishing a new act of "viewing" that doesn't depend on "seeing." When you give yourself up to his architectural audio space that brings in a wide range of elements from society, culture, history, and religion, the rhythmic reverberations of a deep, churning beat exert a fascinating pull. This first solo exhibition in Japan is a marvellous opportunity to encounter and experience Haroon Mirza's art.