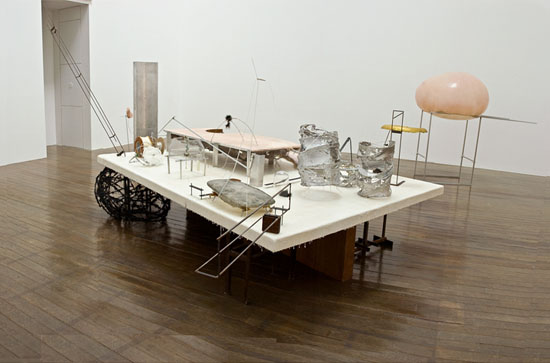 Nobuko Tsuchiya "We are living in a time machine"
2011.11.18(Fri) - 2012.1.28(Sat)
Exhibition Period:
Friday, 18 November, 2011 - Saturday, 28 January, 2012
Opening Hours:
12:00-18:00 *closed on Mon., Sun., Holidays, and from Tuesday, 20 December 2011 to Saturday, 7 January 2012.
Venue:
SCAI THE BATHHOUSE
Nobuko Tsuchiya returned to Japan last year after a decade living and working in London. Her first major exhibition was at the 50th Venice Biennale in 2003, and she has worked internationally thereafter, to ongoing acclaim. Tsuchiya creates enigmatic and delicate sculptures, freely assembling them from familiar objects and scrap materials. Mysterious titles give her works a unique sense of narrative and leave viewers entranced.
11th Dimension Project, the centerpiece of the "We are living in a time machine" exhibition, was made as a device for going to 11-dimensional space. The device (work) is made from everyday materials such as metal, glass, and silicone. No indication or explanation is given for what the various parts do, leaving it up to viewers to come up with their own interpretations.
The enigmatic title is based on Tsuchiya's feeling that we are all like beings living in a time machine. We tend to think that we only live in the present space-time, but in fact we co-exist with past memories and experiences, while simultaneously thinking about and being aware of the future. The work reflects Tsuchiya's keen awareness of the fact that we are continuously and freely engaged in complex comings and goings, just like time machines. Going to 11-dimensional space may seem like something out of a fantasy, but this installation makes us think deeply about the space and time in which we find ourselves.
11th Dimension Project was included in the "Quiet Attentions: Departure from Women" exhibition that opened in February 2011 at Art Tower Mito's Contemporary Art Center, but which was cut short due to the Great East Japan Earthquake. SCAI THE BATHHOUSE is honored to be able to present the new version of Tsuchiya's work and to offer a wide audience another chance to appreciate it.