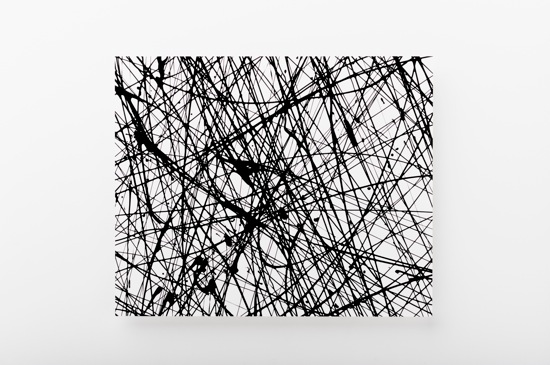 "Beyond"
Natsuyuki Nakanishi,
Kohei Nawa, Jeppe Hein,
Kounosuke Kawakami,
Brian Alfred, Atsushi Saga
2011.6.3(Fri) - 7.2(Sat)
Art definitely has something akin to concepts and rules, but they are manipulated by artists using visual and other language that readily goes beyond general ideas and concepts. The artists in this exhibition have created works that can shift towards or away from the viewer, coming and going as if gauging the distance. In that sort of dialogue with the work, the language utilized by the artists is of such a range that it seems capable of limitless extension.
The most prominent exhibits in this show are two valuable paintings by Natsuyuki Nakanishi, a leading Japanese artist in areas from avant-garde art to painting. One is from the 1960s and the other is from the 1980s. Each of these powerful canvases conceals a quiet spirit of rebellion and leaves a very strong impression on viewers' minds.
We are also exhibiting Line-Fragment, a previously unexhibited work in the Drawing series by Kohei Nawa, whose major solo exhibition at the Museum of Contemporary Art Tokyo (MOT) opens on June 11, 2011. In this series the artist incorporates techniques such as employing machines that he has designed himself, or moving his body on a grand scale while holding paint and making varied movements with his arms, or using paper to catch paint blown by the wind. The common factor behind these techniques is that Nawa is incorporating forces that act independently of the artist's volition. By moving the work and allowing the paint to dry slowly, the pigments are subject to an opposition between the artist's control and the fortuitous effects of the extraneous forces. The result is a work with dynamic lines covering the medium in an unfettered manner.
Danish artist Jeppe Hein created sculptures that engender communication, utilizing reflections from mirrors, and manipulating light and shade to produce rotation, to lengthen/shorten the sense of distance, or to shift the perceived positions of the viewer and the work. Hein's solo exhibition "360°C" is on show at the 21st Century Museum of Contemporary Art, Kanazawa until August 31, 2011.
Kounosuke Kawakami, a young artist with a concurrent solo exhibition at the Daiwa Foundation Japan House in London, uses a painting method based on acrylic paints plus collage to create landscapes on canvas of scenes somewhere between fantasy and reality. The exhibition at SCAI THE BATHHOUSE will also include works by Brian Alfred, whose paintings depict scraps of everyday life to portray issues faced by contemporary society, and Atsushi Saga, who is due to exhibit at this year's Yokohama Triennale, and whose flat works are so black that they seem to pull in the viewer.
In addition to setting up a dialogue between the viewers and the works by each of the artists, this exhibition creates a dialogue between the richly varied individual works, resulting in an experience of a new space that goes beyond regular art history concepts. This is a unique opportunity.