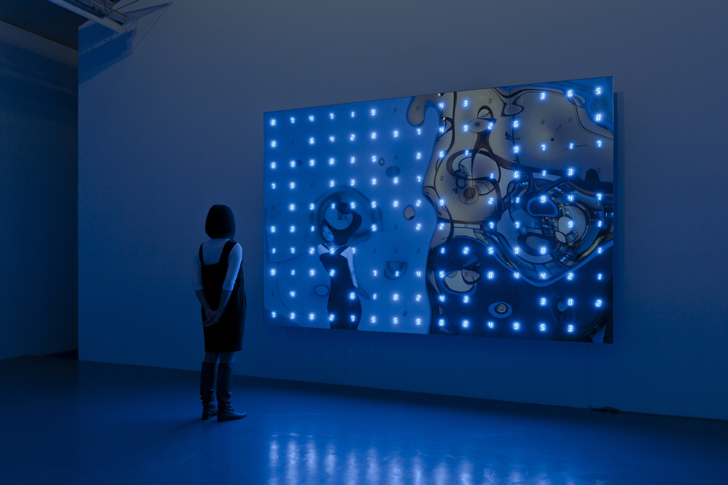 Tatsuo Miyajima "Warp Time with Warp Self"
2010.11.12(Fri) - 12.22(Wed)
Exhibition Period:
Friday, 12 November - Wednesday, 22 December, 2010
Opening Hours:
12:00-19:00 *closed on Mon., Sun., and Holidays
Tatsuo Miyajima is a contemporary artist highly acclaimed internationally for his distinctive works utilizing digital counters made from light-emitting diodes (LEDs). He is well known in Japan thanks to such works as Counter Void, which is permanently installed on an outside wall of the TV Asahi building in Roppongi Hills, Tokyo, and Sea of Time '98, an installation in a centuries-old Japanese house on Naoshima Island in the Seto Inland Sea. All of Miyajima's works share a sense of time and space. Viewers are struck by the digital counters because they discover the rhythm of life's dynamism within the blinking, ceaseless display of numbers. Today, LEDs are an ordinary part of our daily surroundings, but back in the latter half of the 1980s when Miyajima first used them in his art, they were still an unknown material that merely hinted at their future potential.
For more than twenty years since his early adoption of the LED medium, Miyajima has continuously used these digital counters as his language of expression, but now he is developing a new theme—a free state of time and space that is uncontrolled by simple algorithms, one that constitutes a leap forward. Until now, his art has been appreciated in the context of the order and calm that emerged through the repeated blinking of LEDs in accordance with a regular, well-ordered rhythm. His new works exhibited here, however, reveal an ambitious challenge that smashes the tranquil image of his previous work.
Key concepts of the new works are the relationships between numbers that evolve where the regularity of time and space is transcended, and the leaps of imagination achieved through the incidental events they produce. Under these conditions, events and life refuse to stand still. Instead, they constantly and continually evolve as they transcend the frameworks of existing ideas and interact with many different things. Nevertheless, this new world view is in line with the three basic concepts that Miyajima has put forth from the beginning—"Keep Changing," "Connect with Everything," and "Continue Forever"—and can be seen as a further development of that world.