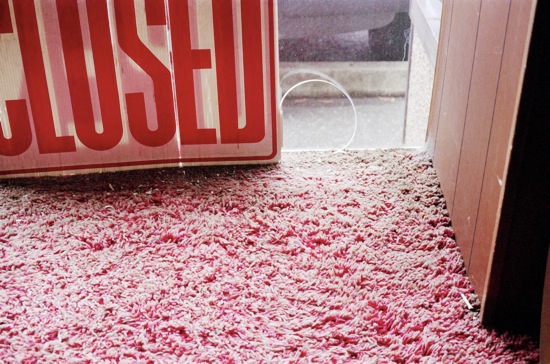 William Eggleston: 21st Century
2010.7.2(Fri) - 8.4(Wed)
Exhibition Period: Friday, 2 July - Wednesday, 4 August, 2010
Opening Hours: 12:00-19:00 *closed on Mon., Sun., and Holidays
Support: U.S. Embassy, Tokyo
William Eggleston was born in 1939 in Memphis, Tennessee, where he continues to work to this day.

Today, color photography is a standard form of expression in art photography, but in the 1960s and early 1970s there was a tacit understanding that color photography was a commercial medium and that art photography should be monochrome. That is why a solo exhibition of Eggleston's color photographs held by MoMA (The Museum of Modern Art, New York) in 1976 had a major impact on the art world, presenting new possibilities for artistic expression through color photography.

Since the 1980s, his works and exhibitions have been shown internationally, and in 1998 Eggleston won the Hasselblad Award, photography's equivalent to the Nobel Prize. A major solo exhibition of his work originating at the Whitney Museum of American Art in New York in 2008 has since been touring the United States and Europe. Eggleston has established for himself an unassailable reputation as a pre-eminent photographer.

This exhibition, "William Eggleston: 21st Century," showcases Eggleston's photographs taken since 2000, providing a comprehensive view of the recent work of this leading photographer. Although the works on display feature a wide variety of locations, including Eggleston's home state of Tennessee, and other places in America, Europe, and Russia, each shares Eggleston's characteristically subdued color palette and vibrant hues, almost making it seem as if they are all photographs of the same city.

Eggleston's works are characterized by the fact that they capture decidedly casual, everyday scenes that most people overlook, and yet are very painterly in their composition, with minute details that create a tautness and tension, moving the viewer.

Eggleston's work is concurrently being shown at the Hara Museum of Contemporary Art, Tokyo in an exhibition called "William Eggleston: Paris-Kyoto" (June 5 to August 22, 2010). Featuring a series of works on Paris and Kyoto, the Hara Museum's show highlights scenes of these two great cities taken from Eggleston's perspective.

"William Eggleston: 21st Century" is an excellent opportunity to explore the recent work of this most influential and original photographer.