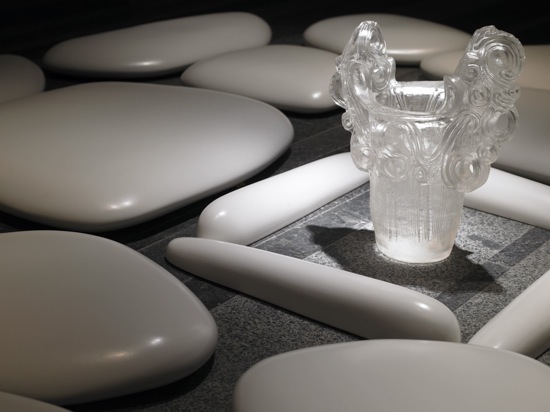 Mariko Mori "Flat Stone"
2009.9.8(Tue) - 10.3(Sat)
Exhibition Period: Tuesday, 8 September - Saturday, 3 October, 2009
Opening Hours: 12:00-19:00 *closed on Mon., Sun., and Holidays
Mariko Mori appeared on the international art scene in the latter half of the 90s. A Menzioni d'Onore awarded at the 47th Venice Biennale confirmed her international reputation in 1997, and in the intervening years her work has attracted constant attention worldwide.

A large-scale exhibition of Mori's works traveled to art museums around the world in 2007 and 2008. This exhibition presented an overall introduction to her recent works, and evoked a massive response, impressing its audiences with a sense of the scale and grandeur of her works. Mori's Plant Opal, with colors that change according to natural phenomena such as temperature, rain, and wind, was permanently installed at Tokyo's Roppongi Hills in March 2009. The installation is popular with visitors to this bustling complex.

This exhibition at SCAI The Bathhouse displays three-dimensional works, paintings, and drawings not previously presented in Japan. The focal three-dimensional work, which gives the exhibition its name, is Flat Stone. Jomon period stone circles used to celebrate dawn on the Winter Solstice inspired this work. The people of Jomon period Japan celebrated the seasonal transition of the Winter Solstice, realizing that the day marked the ultimate waning of the natural environment due to the shortened daylight, while also heralding the coming renewal of spring. Resonating with the values of these ancient people who lived in harmony with nature, Mori recreated the Jomon ritual space with 22 white ceramic forms, thus expressing the transitions and rebirth of nature, and of the soul. This work speaks to all of us caught up in contemporary social issues, suggesting a new way of being that incorporates a fusion with nature.

This concept is also shared by the exhibited paintings and drawings on the theme of links between the universe and matter on earth, inviting a renewed consideration of humanity as a part of nature and the universe. Mariko Mori is now best known for her large-scale, three-dimensional works, but the works displayed in this exhibition give a particularly strong sense of the profound concepts and emotions concealed within her.