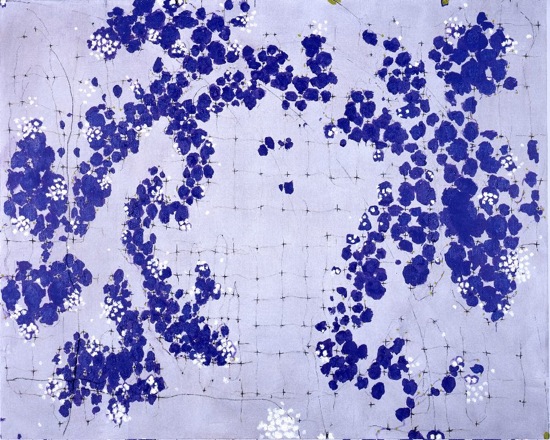 Natsuyuki Nakanishi "Behind, Circle"
2009.4.17(Fri) - 6.6(Sat)
Exhibition Period: Friday, 17 April - Saturday, 6 June, 2009
Opening Hours: 12:00-19:00 *closed on Mon., Sun., and Holidays
Natsuyuki Nakanishi was born in Tokyo in 1935. After graduating from the Oil Painting Department of the Tokyo National University of Fine Arts and Music, in 1963 he founded the Hi Red Center avant-garde art group with Jiro Takamatsu and Genpei Akasegawa. Nakanishi's well-documented accomplishments during his early period as a leader in Japanese avant-garde expression need not be reiterated here. Nakanishi continued his own unique expression in his work on paintings that became the focus of his activities in the latter half of the 60s. He is still a major artist in Japan's world of contemporary art. Memories of the well received, and to many, surprising, installation he created for last year's Yokohama Triennale remain fresh in our minds.

This exhibition consists entirely of previously unexhibited works, ranging from Nakanishi's recent large-scale paintings brimming with vivid strength to smaller-scale works. Five years have passed since Nakanishi's last one-person show at our gallery. This exhibition demonstrates Nakanishi's progress during that period, revealing the context behind his very latest works.

Natsuyuki Nakanishi's abstract paintings are emphatically cerebral works that take as their subject the strained relationship between real space and pictorial space. It can be said that his daily progressing meditations are reflected on his canvases, and lining up these canvases allows a reading of the links between them, as well as revealing the gradual changes that occur over time.

The works in this exhibition particularly expose the changes in the artist's thoughts through the appearance and disappearance of circles across the picture plane. The poetic exhibition title, "Behind, Circle" is, in this regard, extremely, fascinatingly, resonant.
Through this exhibition of previously unexhibited works, SCAI THE BATHHOUSE presents a rare opportunity to gain a deeper understanding of Natsuyuki Nakanishi's recent oeuvre.