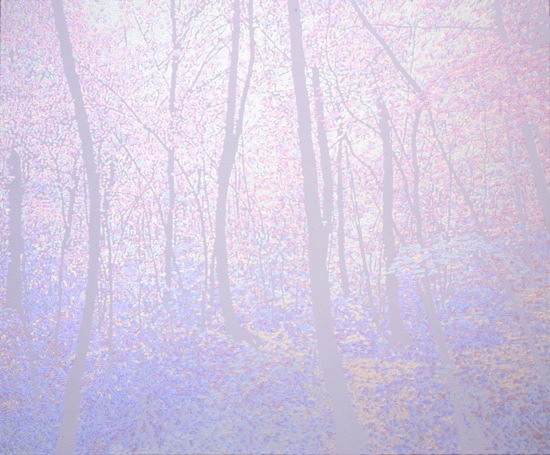 Daisuke Ohba "The Light Field"
2009.3.6(Fri) - 4.4(Sat)
Exhibition Period: Friday, 6 March - Saturday, 4 April, 2009
Opening Hours: 12:00-19:00 *closed on Mon., Sun., and Holidays
Opening on 6 March 2009, SCAI THE BATHHOUSE will present "The Light Field," a solo exhibition by Daisuke Ohba. Ohba, born in 1981, is one of the most outstanding of today's up-and-coming painters.

Since his solo "LABYRINTH" exhibition in 2006 at Magical ARTROOM in Tokyo and at ARTZONE in Kyoto, Ohba has been increasingly in demand for group exhibitions. In 2008, these included "Vivid Material" at Tokyo Geidai (Tokyo University of the Arts), and "THE ECHO" at ZAIM in Yokohama. Plans for 2009 include participation in the third exhibition in the "War & Art - Terror and Simulacrum of Beauty" series curated by Takayo Iida at Galerie Aube, Kyoto University of Art and Design. Ohba has gained international acclaim for both representational paintings - his Woods and Mount series of landscapes - and abstract paintings - his Spectrum series with rhythmic arrangements of grids - as well as for other works such as his metallized trophy sculptures. This success has resulted in keen interest in how his art will develop.

One of the attractions of Ohba's art is his use of iridescent pearl paint, producing paintings that undergo continual transformations - image shifts and color transitions - as the light varies or as the viewer moves. He is also exploring the material properties of the new color shift paints, experimenting with how they can be used to incorporate the painting's surroundings into the overall composition by attention to natural light and to viewers' lines of sight and routes through the gallery. By developing this relationship with the viewer, Ohba is discovering new possibilities in the pictorial space.

"The Light Field," Ohba's first solo exhibition at SCAI THE BATHHOUSE, will feature seven representational works, consisting of a large (2 meters tall by 7.5 meters wide) five-panel painting of woods, and two smaller mount paintings. These will be installed to give viewers a sense of being physically enveloped by the paintings, encountering a pictorial space that emanates sublimity. This sublimity in Ohba's paintings is distinct from the landscape depicted, instead emerging from his capture of illusions of light that resemble the effects of stained glass. It is the landscape of trees and mountains that enters the vision first, but standing facing one of these works the viewer finds him- or herself in the presence of a dazzling world of light, which seems to be produced somewhere beyond the canvas. This pictorial space can be thought of as a "light field," which gives the exhibition its name.

This exhibition is held in parallel with Magical ARTROOM in Ebisu (Tokyo), which will also be exhibiting Ohba's works during the same period (6 March-5 April, 2009). Magical ARTROOM will present a new series of abstract works. By holding a joint exhibition at two venues, SCAI THE BATHHOUSE and Magical ARTROOM provide a marvelous opportunity to fully experience the quintessence of the illusions of light woven by Ohba's pictorial space, transcending the boundaries of abstract and representational art. Visitors are encouraged to discover for themselves how Daisuke Ohba's genuine interrogation is broadening the expressive potential of the medium of painting.