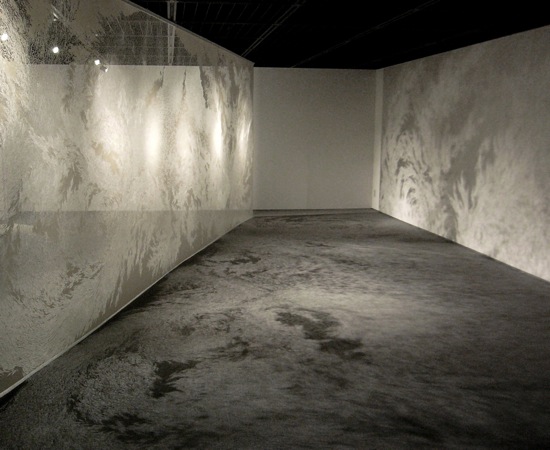 Tomoko Shioyasu "Cutting Insights"

2008.8.29(Fri)-9.27(Sat)
Exhibition Period: Friday, 29 August - Saturday, 27 September, 2008
Opening Hours: 12:00-19:00 *closed on Mon., Sun., and Holidays
Born in 1981, Tomoko Shioyasu majored in sculpture at the Kyoto City University of Arts. In 2005, the year after graduating, she won the Grand Prix at the 6th Spiral Independent Creators Festival (SICF). She then exhibited in the Fukutake House at the Echigo-Tsumari Art Triennial 2006, and was selected for the 2007 VOCA exhibition. As the range of her work expands, it is met by great acclaim, including this year's Most Promising Young Talent Prize in the Fine Art Division of the Gotoh Memorial Cultural Award. Next year, she plans to use the grant associated with the Gotoh Memorial Cultural Award to conduct research and work in China and Europe, which promises to bring additional depth to her work. The upcoming exhibition will be Tomoko Shioyasu's much-awaited first solo exhibition at SCAI The Bathhouse.

As a student, Shioyasu was fascinated by the veins in the leaves of Rumex japonicus found all over campus. The veins were so delicate, yet had such dynamic forms, and she once tried cutting them out one by one with a utility knife. She describes this as the inspiration behind her current works, created on the theme of "nature," and falling into three categories: cutting works, which she creates with fine, overlapping cuts in large, wide sheets of paper using utility knives, soldering-iron works, in which she creates images by melting holes in special synthetic paper, and drawings, using acrylics or charcoal. Common to each of these approaches is a significant amount of delicate and repetitive work performed by hand.

As if in unison with the rhythm of nature as it repeats over time, she makes little cuts over and over again. The little cuts accumulate to create works on a very large scale, producing installations which take in the flow of air and light of their location, becoming one with it so that the exhibition space becomes an abstraction of nature itself, and the installation becomes a sign of nature with presence and depth. Through nature, Shioyasu is expressing a world-view of pursuing the truth of the universe, an approach that is shared with Zen and other forms of Buddhism. In the installation space, the spirit of nature flows through her work, giving the impression of a vivid dance by the air and the particles of light. In a sense, in cutting pieces out of two-dimensional paper, Shioyasu is using thin air as a material and chiseling a new form of sculpture out of the space itself, gaining insights into what things are really like. For her first solo exhibition at SCAI, "Cutting Insights," the centerpiece is a broad sheet of paper, 3.5 meters across and stretching to a height of 6 meters, that she has finely cut and overlapped, installed so as to produce gentle waves. She also presents new soldering-iron works, and drawings in acrylics or charcoal.

Tomoko Shioyasu is attempting to create a new space through a strong and energetic image of life―life that wells up with enough energy to be heard, life that is sublimating and recycling― conveying insights about something that seems to be truly important. It is a great pleasure for SCAI to present this exhibition and provide the opportunity for a wide range of people to see her work.