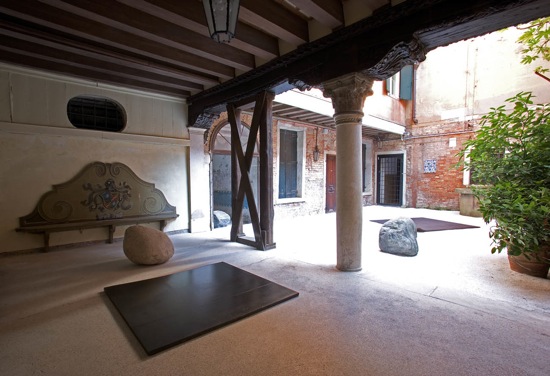 Lee Ufan
2007.9.14(Fri)-10.27(Sat)
Exhibition Period: Friday, 14 September - Saturday, 27 October, 2007
Opening Hours: 12:00-19:00 *closed on Mon., Sun., Holidays
Born in Korea in 1936, Lee Ufan has lived and worked in Japan since 1956. He also has a base in Europe, and has recently spent an increasing proportion of his time outside Japan.

Lee has been internationally acclaimed since the late 1960s, when he was a central figure in the Mono-Ha group, but with his distinct approach and individualistic artistic expression, he has now established a unique style that goes beyond such categorization.

"Resonance," Lee's solo exhibition at the Palazzo Palumbo-Fossati in Venice until November 21 2007, presents new works created in association with the Venice Biennale. He is one of the world's most newsworthy artists.

For Lee's first exhibition at Scai the Bathhouse in five years, and his first solo exhibition in Japan since appearing at the Yokohama Museum of Art in 2005, he will present new paintings and sculptures.

The new works to be exhibited are paintings with only a very few brushstrokes on a large canvas, and sculptures that combine otherwise unaltered steel plates and natural stones. Both incorporate the blank spaces that are a significant feature of his work, and which, rather than being just left behind, are the result of an active decision to create a space. This approach has been maintained continuously since his earliest work. The blank spaces enable his works to expand infinitely, giving observers a great amount of freedom.

This distinctive form of expression has been arrived at after a great deal of deep thought and contemplation about Western and Eastern cultural approaches and about human existence. It carries an extremely philosophical awareness.

The exhibition at Scai the Bathhouse is particularly interesting because of the opportunity it presents to see the culmination of Lee Ufan's recent work.