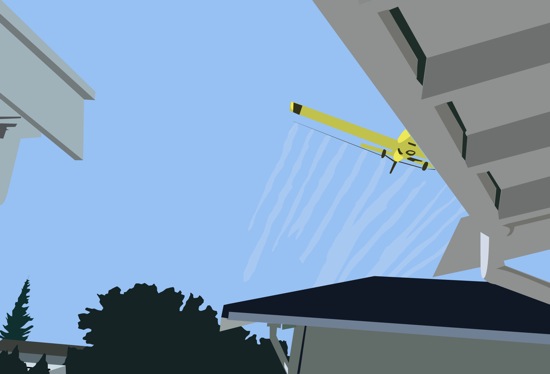 Brian Alfred "Global Warning"
2007.3.23(Fri)-4.28.(Sat)
Exhibition Period: Friday, 19 March - Saturday, 28 April, 2007
Opening Hours: 12:00-19:00 *closed on Mon., Sun., and Holidays
For many 21st century New York artists, 9.11 was a disaster that was intensely personal and traumatic. The same applies to Brian Alfred, who was 27 at the time, and the incident marked a major turning point in his art. Before 9.11, Alfred had been producing somewhat nostalgic paintings with a hint of influences by the great American painters Edward Hopper, Roy Lichtenstein and Alex Katz. After 9.11, however, he began producing work that vividly addressed contemporary issues such as the technology crisis, or war and conflict that involves the United States or the world at large. Initially depicting a visceral fear towards violence on a vast scale, Alfred gradually developed a style in which the truth hidden behind violence is mapped out, conveying a sense of distance as if he were utilizing an overhead camera in a film.

While the issues that Alfred addresses can be described as American tragedies, they are relevant to anyone living in the 21st century. Behind the enormous tragedy brought about by global development is an incident that Alfred has not been able to ignore: the explosion of the Space Shuttle Challenger, which he witnessed as a boy, in real time, on television. There have been repeated warnings in literature, film and other media of the threats that lie beyond technological development and mankind's dreams - and these are a part of the negative legacy of the 20th century that we have inherited.

The subject chosen by Alfred in his solo exhibition held in spring last year at the Mary Boone Gallery in New York was the transience, vulnerability and fragility of the planet that we live in, and as though avoiding any direct depiction of the subject, conveyed through paintings of the Challenger tragedy, the military facility (that also functions as a UFO monitoring facility) outside Las Vegas, and buildings depicted in a style reminiscent of the Russian avant-garde. This exhibition was followed by a solo exhibition, held at the Haunch of Venison, Zurich, titled "Surveillance," of works representing a totally different direction again; this time addressing the contemporary issue of monitoring, and of people being continuously monitored - whether by hackers on the Internet, or by surveillance cameras.

Although remnants of the American dream, as depicted by Katz and Ed Ruscha, are evident in Alfred's work, also evident is the intent to break with the strong and lingering image of a strong America as well as the delusion of peace. It is indeed a contemporary story that can only be depicted by one living in these times. Not even the artist himself knows what lies ahead - the image of the future is something that only history knows.

This long-awaited exhibition, Alfred's first in Japan, has been titled "Global Warning" and, while hinting at political agenda and power deals, objectively addresses issues such as global warming and environmental destruction. The exhibition will comprise an ambitious work of digital animation, four large paintings and around a dozen collages.