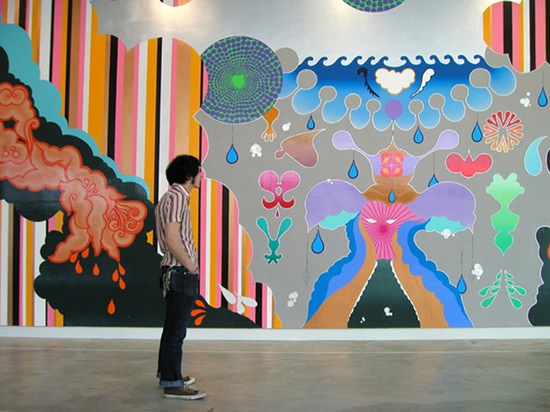 Dzine - stealing dreams -
2006.10.27(Fri) - 12.9(Sat)
Exhibition Period: Friday, 27 October - Saturday, 9 December, 2006
Opening Hours: 12:00-19:00 *closed on Mon., Sun., and Holidays
American painter Dzine was virtually unknown in Japan until he created a splash with his first major solo exhibition here two years ago. His exhibitions in Tokyo and Osaka were a big hit, and keen interest from young art collectors led to his works being sold out at both venues.

Since then, Dzine has exhibited new wall paintings at the Palais de Tokyo in Paris and held many solo exhibitions in his home base of America, including a big site-specific mural at the Contemporary Art Museum St. Louis. This year he has been busy with wall installations at the BALTIC Centre for Contemporary Art in Newcastle, UK, a massive outdoor mural project at Tilburg in the Netherlands, and a new work for a solo exhibition at the National Museum of Contemporary Art in Puerto Rico, where his parents were born. His gorgeous, sexy paintings, studded with the teardrops that are almost his trademark, continuously evolve as he tries out new techniques.

The range of his work is expanding beyond the borders of painting and mixing increasingly intensely with the music scene, including collaborations with world top DJs and a graffiti guitar for Eric Clapton. For his solo exhibition at SCAI the Bathhouse, Dzine is creating a turntable-motif installation, using glass beads and plastic coatings to produce the glamorous surface finish that gives his paintings a special impact. In a dream-team collaboration, this experimental installation combines the paintings with music provided by international music producer Hiroshi Fujiwara.