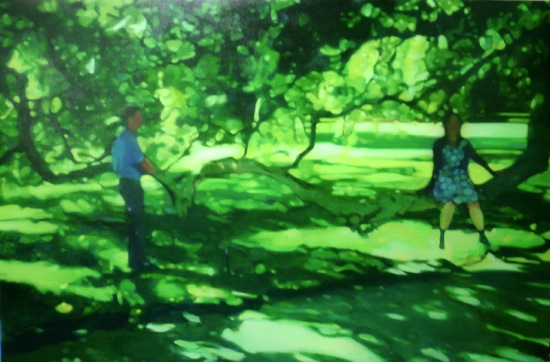 Toru Kamiya
2006.6.30(Fri) - 7.29(Sat)
Exhibition Period: Friday, 30 June - Saturday, 29 July, 2006
Opening Hours: 12:00-19:00 *closed on Mon., Sun., and Holidays
Born in 1969, Toru Kamiya obtained an M.A. in Fine Art (Oil Painting) at the Tokyo National University of Fine Arts and Music after which he went to Dublin to study on an Irish Government Scholarship. He later returned to Dublin on two occasions as artist-in-residence. Toru Kamiya has attracted acclaim for exhibitions such "ZONE", held at Fuchu Art Museum in 2003, and has a growing legion of fans. He is currently based in Kyoto where he is Associate Professor at Kyoto University of Art and Design.

The works represented in this solo exhibition feature two different techniques - line drawings executed in acrylics, and oil paintings. The subject of Kamiya's acrylic works are people and landscapes, depicted almost as silhouettes against the background of a distinctively matt color gradation to create a highly subtle effect. In contrast, Kamiya's works in oil, although naturalistic in style, are marked by a mysterious sense of depth and transparency suggestive of another world.

The oil paintings in this exhibition appear to represent positive images, while the acrylic works represent negatives, leading the observer to realize anew that every color and every shape is formed by light.

The casual and everyday scenes depicted in Kamiya's works are both common and anonymous. However, it is this very erasure of specific meaning that creates a richer and deeper world that anyone is able to enter. The many different elements in the works blend harmoniously to convey a unique stillness that somehow induces observers to linger in front of the painting.

This solo exhibition features only new works, presenting a unique opportunity to see how Toru Kamiya's promising career is developing.