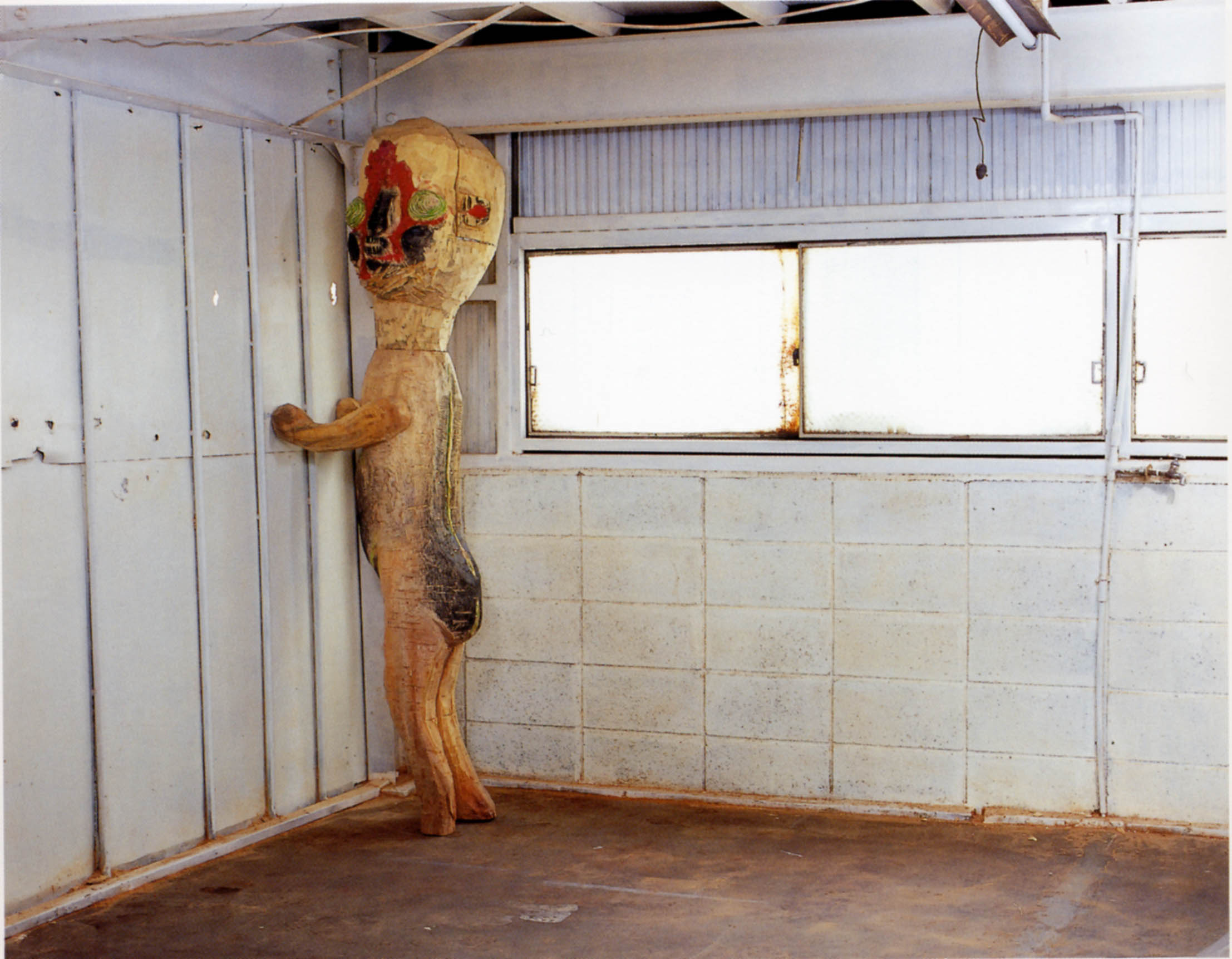 Izumi Kato
2005.4.9(Sat) - 5.7(Sat)
Exhibition Period: 2005.4.9(Sat)-5.7(Sat)
Opening Hours: 12:00-19:00 (closed on Sunday, Monday and National holiday) *except 4/29, 5/3, 4, 5
An exhibition of works by Izumi Kato will be held at SCAI THE BATHHOUSE from April 9 to May 7. This exhibition, Kato's first full-scale one-man show in Japan, will mainly present new sculpture works by the artist.

Izumi Kato's works seem somehow directly linked to human existence, making us feel strongly the power of painting and art. This may seem a matter of course, but it is perhaps the most essential ability of all for a contemporary artist, and it is a rare artist who can actually achieve it.

Kato says it took many years until he became convinced that art was necessary to him. After graduating from art college, he went through a blank period of a few years before embarking on a career as a painter. Kato's works usually depict "living beings", but these creatures evoke primitive creatures that resemble babies, crosses between fetuses and insects, or beings stripped of nationality, race, and age. Sometimes expressed in uncertain colors with no clear boundaries, sometimes in dazzlingly bright colors, they may evoke weirdness, cuteness, emptiness or violence, yet they always leave the impression of something immensely powerful, which can only be described as 'existence itself'.

When Kato paints, he hardly ever has any overall design in mind. Wearing cotton gloves, he applies pigment directly to the canvas with his fingertips, creating the work by interacting with what he is painting. According to Kato, "The relationship between the painting and me is an equal one and I do all I can, with everything I have, to make sure it's always fresh. The ideal situation is when what is happening on the canvas is in harmony with what you might call "the will to paint"". By settling for nothing less than "quality between the painting and me", Kato creates a tense relationship among various elements: the controllable and uncontrollable, art, illustration, and meaning, imbuing the work with tremendous power as painting or as expression.

Kato's insistence on equality between himself and the painting seems to spring from the earnestness with which he confronts a certain difficulty that we are all familiar with. When we attempt to convey existence itself or something of similar importance these days, it invariably ends up being categorized as a symbolic or collective representation of something, thereby losing its original essence, or being looked down upon as too trite. Paradoxically, because Kato has this will to convey existence as it really is, he demands from the painting the same autonomy and strength he asks of himself, in order to prevent those "living beings" that silently convey existence itself from being labeled in this way. And that is probably why they resonate with us so deeply.

In recent years, Kato has been producing sculptures as well as paintings. The giant sculpture of a baby-like creature with a huge head, standing unsteadily, which he exhibited in "Lonely Planet" at the Art Tower Mito last year, had a very powerful impact. Although it seems to evoke the directness of primitive art, it avoids this kind of labeling, or it might be more accurate to say it cannot even be placed in that category. In short, that "living beings" may well be ourselves, living in the present age.

International attention is increasingly focusing on Izumi Kato, who will also be participating in a group exhibition in New York during this exhibition. His first full-scale one-man show in Japan is an art event you cannot afford to miss!